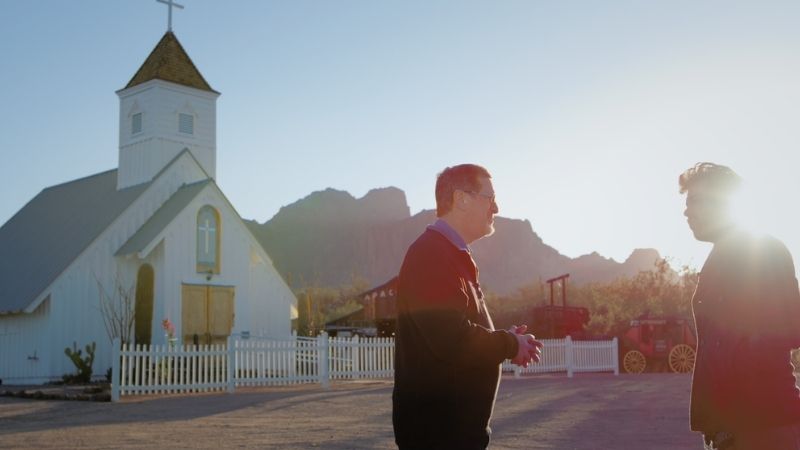 Pure Flix announces a partnership with Sandoval Studios and New York Times best-selling author Lee Strobel to exclusively stream "The Case for Heaven," a documentary that investigates Near-Death Experiences and presents evidence for Heaven and Hell. "The Case for Heaven" will be available on Pure Flix on July 15th.
From the author and former atheist turned Christian apologist who investigated "The Case for Christ,"Lee Strobel was inspired to explore the evidence for an afterlife and how to address mankind's biggest fear: death. After his own personal close-call with death, Strobel used an evidence-based and systematic approach to write "The Case for Heaven" book that inspired this new film.
"Viewers will be surprised, captivated and encouraged by this beautiful and compelling film. It will dispel many of their misconceptions about the afterlife," said Lee Strobel. "I'm thrilled with the enthusiastic reception the documentary has received so far – and I can't wait for an even wider audience to experience it."
"The Case for Heaven" features interviews with best-selling author John Burke, world-renowned pastor Francis Chan, the late Evangelist Luis Palau and more.
"This film has something to say that has clearly resonated with audiences who have questions, doubts or fears about the afterlife," said director Mani Sandoval. "We look forward to inviting a wider audience to this journey with us as we explore the remarkable evidence and human experiences about what's to come beyond this life."
Executive Producer Gil Sandoval had this to say: "We are pleased to partner with the largest faith-based streaming platform and home to additional content inspired by Lee Strobel's books. Lee Strobel proving the existence of heaven utilizing facts and not simply our emotions is sure to inspire and fascinate Pure Flix members."
For more information visit here.
ABOUT PURE FLIX
Pure Flix is a one-stop shop for faith and family-friendly movies and shows where you can confidently stream in your home with the entire family. With new premium and exclusive original entertainment choices every week, Pure Flix streaming service has the largest variety of high-quality, curated, positive, encouraging, wholesome movies, series and kids' content in one service. Pure Flix is a wholly-owned subsidiary of Sony Pictures Entertainment.
ABOUT LEE STROBEL
Atheist-turned-Christian Lee Strobel, the former award-winning legal editor of The Chicago Tribune, is a New York Times best-selling author of more than 40 books and curricula that have sold 14 million copies in total. He currently serves as Founding Director of the Lee Strobel Center for Evangelism and Applied Apologetics at Colorado Christian University.
ABOUT SANDOVAL STUDIOS
Sandoval Studios is a rising American film and animation studio, creating standout original content that fuels the spirit, inspires the imagination, and moves the heart. Founded by the Sandoval brothers, the team behind the award-winning Sandoval Agency, Sandoval Studios has a slate of documentaries, feature films and animated series coming soon.
About Educational Media Foundation
EMF began as a single radio station in Northern California in 1982 and is now the parent company to K-LOVE and Air1—the nation's largest contemporary Christian radio networks. Broadcast on more than 1,000 signals across all 50 states, EMF is also among the top 10 U.S.-based audio streaming companies. In 2019, the ministry acquired WTA Media, a leader in faith->based films and publishing, and oversees its operations in Franklin, Tenn. In 2020, the ministry launched AccessMore, the leading faith-based podcast platform. With more than 400 employees, EMF is headquartered in Rocklin, Calif., and has field team members in major markets throughout the U.S. For more information, visit KLOVE.com, Air1.com, TheWTAgroup.com, or AccessMore.com.
CONTACT:
Ben Laurro, Pure Publicity; 615-595-8466; Ben@purepublicity.com
Angela Sullivan, Pure Flix; angela.sullivan@pureflix.com