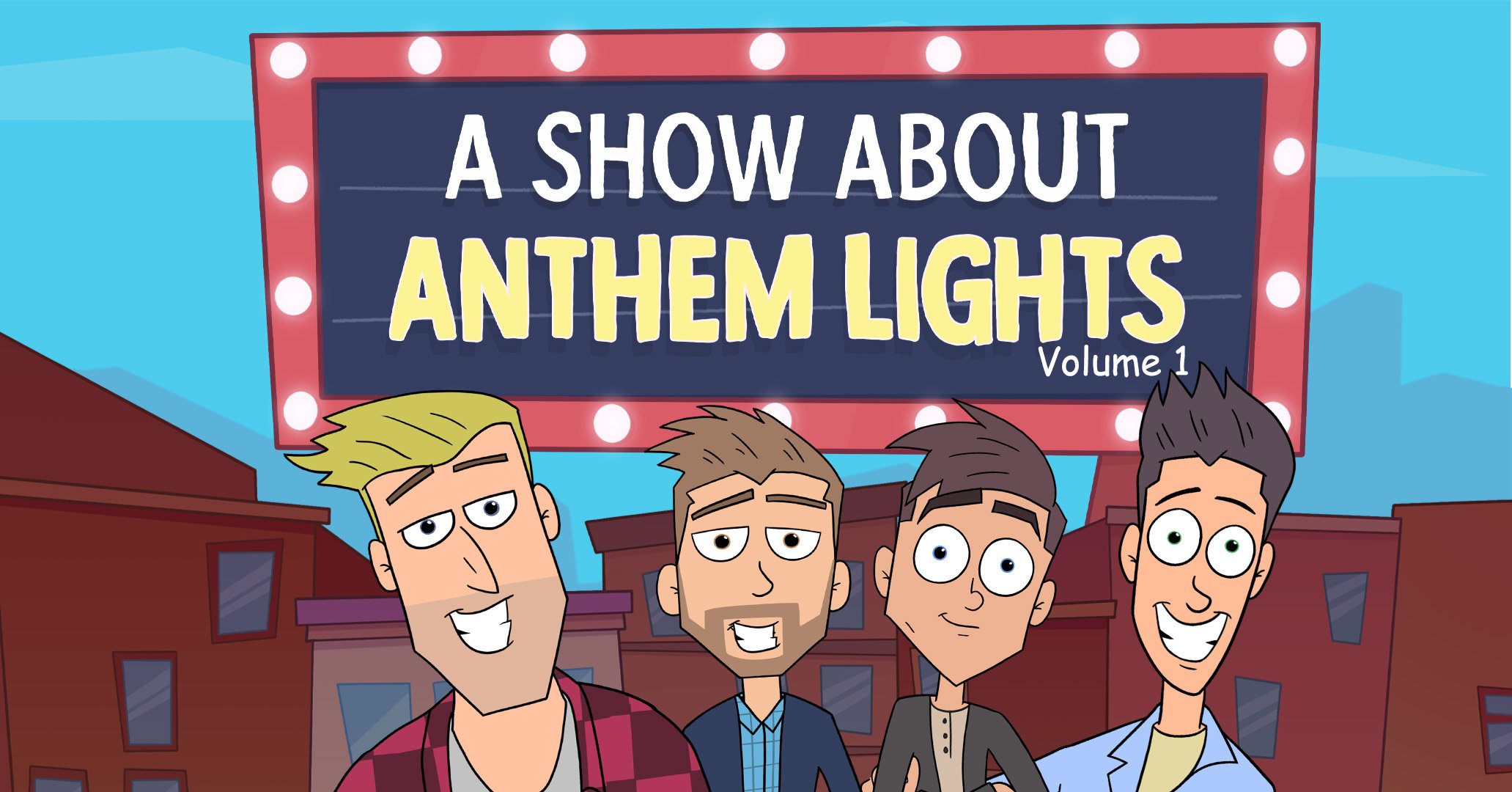 Get ready to laugh and sing with the new animated series "A Show About Anthem Lights," premiering exclusively on Pure Flix on January 12, 2022. AFFIRM Originals, a division of AFFIRM Films, the studio behind SOUL SURFER, WAR ROOM, RISEN, HEAVEN IS FOR REAL, MIRACLES FROM HEAVEN, OVERCOMER, has helped bring the vision of creator and director Rob Hawkins to life. Executive Produced by Mark Stuart, Josh Heiner and Vicky Patel.
The show is exactly what the title implies – an animated series depicting the vocal group, Anthem Lights, as they go about everyday activities navigating the ups and downs of life in a boyband ... all while singing about it!
"This show, in many ways, is a love letter to our fans and we think they are going to appreciate it as much as we appreciate them," said band member Caleb Grimm. "We think it's authentically funny and the music and stories will appeal to a wide range of people who may not be familiar with our music … yet."
The series will be released in volumes and will feature animated versions of the band members, Spencer Kane, Joey Stamper, Caleb Grimm and Chad Graham. The Anthem Lights band members are available for interviews, in addition to Pure Flix spokespersons.
Additional information is available at PureFlix.com/AnthemLights.
ABOUT PURE FLIX
Pure Flix is the leading faith and family-friendly streaming video-on-demand service. With thousands of God-honoring and inspiring movies and shows, you can Have Faith In Your Entertainment again.
Pure Flix was founded in 2005 by Michael Scott, David A.R. White, and Russell Wolfe. The company initially started as a film studio behind breakout theatrical hits like "God's Not Dead," "The Case for Christ," and "Do You Believe?" and launched its streaming platform in 2014. In late 2020, Pure Flix the streaming service became part of AFFIRM Entertainment, a subsidiary of Sony Pictures Entertainment, with a mission to stream God-honoring stories to a new generation through inspiring and faith-affirming TV shows, movies and original series.
ABOUT AFFIRM FILMS
AFFIRM Films, launched in 2007, is an industry leader in faith-based/inspirational film with worldwide box office of over $660 million including such hits as SOUL SURFER, WAR ROOM, RISEN, HEAVEN IS FOR REAL, MIRACLES FROM HEAVEN, OVERCOMER, A BEAUTIFUL DAY IN THE NEIGHBORHOOD in partnership with TriStar Pictures, and most recently The Kendrick Brothers' SHOW ME THE FATHER. AFFIRM produces, acquires and markets content that inspires, uplifts and entertains audiences around the world focusing on family and faith through its three divisions, AFFIRM Films, AFFIRM Television and AFFIRM Originals. Sony Pictures Entertainment is a subsidiary of Tokyo-based Sony Corporation.
Register to get all the latest news from AFFIRM Films at www.affirmfilmsupdates.com and follow AFFIRM Films on social media at @AFFIRMFilms.
ABOUT ANTHEM LIGHTS
Anthem Lights is a Pop, Christian & Gospel vocal group from Nashville TN known for their Hymns, Medleys and Mashups. With members Caleb Grimm, Chad Graham, Joey Stamper, and Spencer Kane, Anthem Lights have garnered numerous chart topping radio singles and albums. Millions around the globe follow their viral videos and their family friendly performances featuring harmonies and one-of-a-kind arrangements of current hits and the world's most loved classics. Their passionate international fan base, with over 5 Million Facebook followers and over 2 Million monthly Spotify listeners, continues to grow from the United States to the Philippines to Russia and everywhere in between.
CONTACT:
Ben Laurro, Pure Publicity
615-595-8466