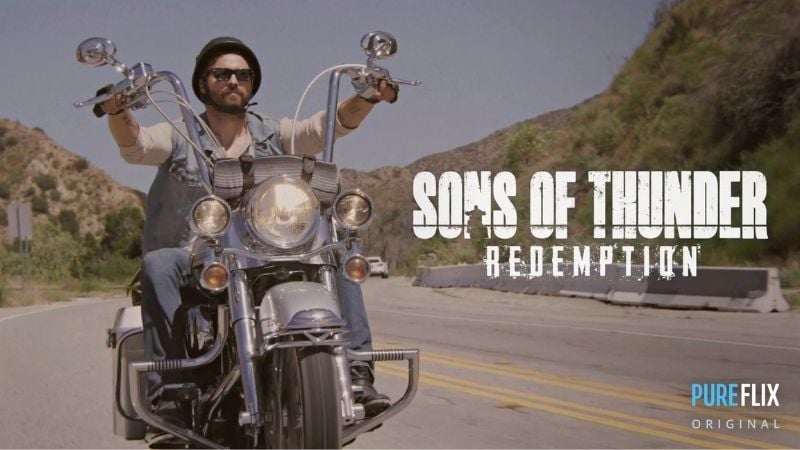 Pure Flix is proud to announce the new adventure in the "Sons of Thunder" franchise: "Sons of Thunder: Redemption," a spinoff show that follows another former member of the Devil's Hand who is righting wrongs and spreading the love of Jesus.
This new show follows Jacob, fresh out of prison for crimes he committed for the biker club. But his stint behind bars was freeing for his soul because of an encounter with fan-favorite, Simon.
"We took this opportunity to expand the world of 'Sons of Thunder' and create a spinoff that was true to the heart of the original, but takes fans on a brand new adventure," said executive producer Anna Zielinksi. "This spinoff will focus on former Devil's Hand member, Jacob Lewis, who is fresh off a stint in prison and searching for forgiveness from those he wronged in a past life fueled by drugs and bad decisions. We're really excited to see how fans react!"
Watch the rest of her thoughts on the new spinoff show "Sons of Thunder: Redemption."
Rocky Myers stars as Jacob and is joined by Charlene Amoia as Sandy; Tyler Johnson as Logan; Kristy Swanson as Linda; and Wyatt Walter as Cooper. Meyers and Amoia are available for interviews.
Watch the trailer for "Sons of Thunder: Redemption" here.
Additional information is available at Pure Flix.
ABOUT PURE FLIX:
Pure Flix is the leading faith and family-friendly streaming video-on-demand service. With thousands of God-honoring and inspiring movies and shows, you can Have Faith In Your Entertainment again.
Pure Flix was founded in 2005 by Michael Scott, David A.R. White, and Russell Wolfe. The company initially started as a film studio behind breakout theatrical hits like "God's Not Dead," "The Case for Christ," and "Do You Believe?" and launched its streaming platform in 2014. In late 2020, Pure Flix the streaming service became part of AFFIRM Entertainment, a subsidiary of Sony Pictures Entertainment, with a mission to stream God-honoring stories to a new generation through inspiring and faith-affirming TV shows, movies and original series.
CONTACT:
Ben Laurro, Pure Publicity
615-595-8466